1
Description
ID: 2000552
This business premises is located in St André des Eaux, 10 kms from Saint Nazaire, in Loire Atlantique, in the Pays de la Loire region.
Located in a business park, this 414 m² business premises comprises :
180 m² showroom
140 m² warehouse
40 m² office space plus 24 m² office with independent access
30 m² social premises
2,000 m² of land, with the possibility of renting an additional 1,200 m².
This business premises is available for rent.
2
In pictures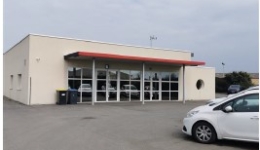 3
Technical specifications
Building
Built surface area (sqm): 414 sqm
Number of sectional doors: 2
Access
1 h from Nantes
1 h 50 from Rennes