1
Description
ID: 2000550
This industrial premises-warehouse is located in REZE, on the outskirts of Nantes, in the Loire Atlantique region of France.
Located in a very dynamic economic environment (Espaces Océanes in Rezé), this independent industrial-warehouse premises has a total surface area of 2,535 m², 60 m² of which is office space.
The building is available for lease from June 2023.
Type of property:Industrial building
2
In pictures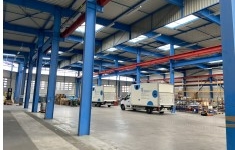 3
Technical specifications
Building
Built surface area (sqm): 2535 sqm
State of repair: good
Number of car parking spaces: 30
Access
Périphérique sud exit n°52 (porte de Bouguenais)
Espaces océanes shopping center
Pirmil Les Iles business park
Bus line 36 (Platière)