1
Description
ID: 2000538
This industrial premises is located in Nantes Ouest, Loire Atlantique, in the Pays de la Loire region.
Situated in a very attractive geographical area, close to major roads, the ring road and the ATLANTIS shopping center, this 552 m² industrial premises, divisible from 270 m², comprises :
280 m² ground floor warehouse
ground floor offices of 57, 18, 17 m².
19 and 80 m² upstairs offices
parking in front and to the side of the building
Food and catering activities not accepted.
This building is available for rent
Type of property:Industrial building
2
In pictures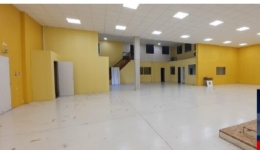 3
Technical specifications
Building
Built surface area (sqm): 552 sqm
Number of sectional doors: 1
Access
Close to the Nantes ring road and major roads
30 min from train station
30 min from the airport