The term digital twin came about in France around five years ago and is now becoming a valuable tool for companies and their development. This new technology and its numerous industrial applications open up a wide range of possibilities in terms of innovation and process optimisation. In Atlantic France, digital twins are already being used in many sectors of activity, thanks to a regional ecosystem that encourages the creation of new projects.
Digital twin: a definition
A digital twin is a virtual model that entirely reflects a physical object. These objects or systems can be products, machines, production lines, processes, supply chains, services or even entire buildings… The digital twin is now being used to represent an entire system and to simulate its operation, behaviour and lifetime. Thanks to Virtual Reality and the IoT, virtual simulation is becoming even more immersive and predictive.
Heralded as a revolution in the industrial sector, this concept makes it possible to:
Improve reliability and performance
Secure systems and anticipate failures
Save money and reduce maintenance costs
Another important contribution: this technology can be used for both green and sustainable growth! By simulating the physical world, digital twins can help companies make better use of resources, reduce carbon emissions and optimise supply and transport networks.
Atlantic France: an ideal playground
Automotive, shipbuilding or aeronautics, construction, health, engineering, production and manufacturing of equipment and products: digital twins applications are already widely used in these different sectors of activity – and are well represented in Atlantic France. 
A land of industry (the region ranks first in the country in terms of industrial employment), companies and economic actors in Atlantic France have clearly understood the interest of this technology in the following applications:
Product development and design
Employee training
Process optimisation and maintenance
Pre-sales and final visualisation of a project.
4 inspiring examples in Atlantic France
ALFI Technologies: the SME from Angers, specialising in the engineering and manufacturing of production lines for intralogistics and automated solutions, is banking on innovation. The company uses the best of industry 4.0 technologies (virtual reality, emulation or IoT tools) to create the digital twin of a production line and build the factories of tomorrow. A service which has been labelled as the "Showcase Industry of the Future"- the excellence of the French Fab!
4CAD Group: based in Bouguenais, near Nantes, the company specialises in the integration of PLM, simulation, ERP, IoT and CRM solutions in order to optimise the efficiency of industrial processes. It makes extensive use of digital twin technology in the solutions it offers to its customers, particularly for simulating the life cycle of a product and implementing predictive maintenance.
Institut Arts et Métiers de Laval: the Laval engineering school is heavily involved in the JENII project (Immersive and Interactive Digital Teaching Twins) which aims to offer students, through the establishment of a virtual campus, distance learning dedicated to the industry of the future. The experience is based on immersive and collaborative environments using the digital twins of real industrial systems.
IRT Jules Verne: the Nantes-based shared technological research centre, which is dedicated to manufacturing, is mobilising on a new project, called CAELESTIS, that focuses on the aeronautics industry in order to digitise the entire process of designing and manufacturing aircraft parts. Within this framework, the IRT Jules Verne and Centrale Nantes will develop digital twins. The expected result could be a decrease in CO2 emissions from aviation and a reduction in the costs and risks associated with the design of new aircraft.
Set up in Atlantic France and benefit from a favourable ecosystem
Are you a business or industrial leader willing to use digital twin technology for your development? In Atlantic France, there are many resources or aids that will help make the process easier.
Players at the service of your projects:
CLARTÉ: a technological resource centre specialising in virtual reality, augmented reality and emerging technologies – Laval
We Network: a technological resource centre aimed at securing and accelerating the industry digital transformation – Angers
Technocampus PROXINNOV: a technological resource centre dedicated to cobotics and industrial robotics – La Roche-sur-Yon
CETIM: a technical centre for mechanical industries offering a comprehensive range of services and R&D tools for companies and major industrial projects – Nantes
Potential regional financial aids:
The call for an expression of interest in the Industry of the future allows a large number of SMEs/SMIs to engage in a process of modernising their production tool (virtual reality/augmented reality, robotics, supply chain, additive manufacturing, big data, IoT…) and for it to be achieved in the short term.
Pays de la Loire Conseil is a system dedicated to VSEs/SMEs in Atlantic France which aims to support them in the key stages of their development and to consolidate their decision-making in terms of growth and/or repositioning.
Pays de la Loire Investissement Numérique helps small businesses in their approach to acquiring new digital tools for real added value in terms of turnover and process organisation.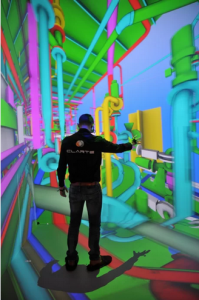 Atlantic France is one of the leaders in the connected electronics and virtual reality sectors, which are two technologies that can be linked and are essential to digital twins. These assets allow the region to offer companies ideal conditions for success for all their projects related to this emerging and truly revolutionary topic!

Alexandre Bouchet, Director of CLARTÉ