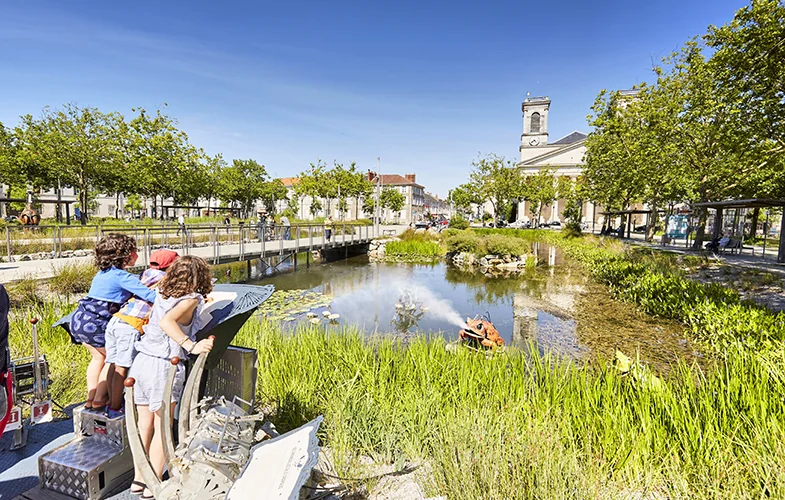 Located in the heart of the Vendée department, La Roche-sur-Yon completes our overview of the big cities in Atlantic France that are great for living and working in, following Nantes, Angers, Le Mans, and Laval. La Roche-sur-Yon stands out for its dynamism within an already extremely attractive region. This human-scale city has numerous economic assets and a well-recognised high quality of life which make La Roche-sur-Yon a destination of choice for setting up a business.
The economic assets of La Roche-sur-Yon
Ideally located in Western France, in the heart of Atlantic France, La Roche-sur-Yon is 1 hour away from Nantes and 3 hours from Paris via high-speed train connections which run daily. Easily accessible thanks to the motorway network, its airport, which is dedicated to business aviation (and is one of the most dynamic in France), is only 45 minutes from Nantes-Atlantique International Airport, and is also in close proximity to the port of Saint-Nazaire, meaning that La Roche-sur -Yon is connected and anchored in a dynamic and attractive area.
"The capital of Vendée" enjoys a strategic position favourable to the establishment of your company and the development of your activity. It benefits from a rich ecosystem and numerous services so that entrepreneurs and their families can settle there and merge, in perfect harmony, both their professional and personal lives.
A dense economic ecosystem
More than 7,500 companies are established in the region with the presence of industry leaders such as La Boulangère (French manufacturer of breads and pastries), Groupe Atlantic (European leader in thermal comfort), Akena (French leader in the design and creation of verandas), and Sepro Group (a world leader in industrial robotics). La Roche-sur-Yon also has around twenty business clubs which promote networking, exchanges and business development.
A dynamic employment area
La Roche-sur-Yon is the #1 student town in Vendée (7,000 students), within an urban area of ​​100,000 inhabitants which welcomes more than 1,000 new inhabitants per year. It benefits from a dynamic demographic vitality and offers businesses a skilled talent pool.
Reasonable real estate costs
Rental of offices, acquisition of buildings, purchase of land or development in coworking spaces: the real estate solutions offered to business leaders are numerous and very diversified. The cost is particularly attractive, since it is estimated that the price of renting professional premises in La Roche-sur-Yon is 75% cheaper than in Paris! This trend is also observed in the private real estate market. This is a significant asset for entrepreneurs who wish to come and settle down with their family. Moreover, for young professionals, more than 500 nursery and daycare places are listed in the city.
Capital of robotics and center of excellence dedicated to sustainable mobility and new energies
La Roche-sur-Yon welcomes leading companies in the field of robotics, digital technology and renewable energies. The Vendée capital has a structured ecosystem to support startups, SMEs and large contractors in these innovative sectors of activity.
La Roche-sur-Yon: capital of robotics
Thanks to the establishment of the Robotics Technocampus in La Roche-sur-Yon, the region is positioning itself as the leading hub of robotics and cobotics in Europe. With this unique service proposition, Proxinnov promotes the development and transformation of businesses through robotisation, automation and the modernisation of production equipment. It is a place of industrial excellence where SMEs and research centres can be set up.
Furthermore, the city hosts numerous trade fairs, post-work social events, meetings and professional events linked to this theme such as Robot4Manufacturing, the French Robotics Cup, Eurobot, Innovation Week, and Inovdia.
La Roche-sur-Yon: at the forefront of innovative mobility and low-carbon energies
Green hydrogen with the Lhyfe project, bioNGV and clean fuel, renewable electricity are just some of the numerous initiatives that are being developed in the region to ensure successful energy transition and to rethink the economy of tomorrow. S2E2 is the competitiveness cluster specialising in energy management. It is located in La Roche-sur-Yon and supports all stakeholders in the development and growth of their activity through innovation at the service of a more sustainable economy.
To add to the above, Atinéa, the center of excellence for innovative mobility and low-carbon energies, is located in La Roche-sur-Yon (on the site of the former Michelin factory) and offers 20 hectares of land and 7 hectares of buildings to accommodate startups, manufacturers and training centres. Atinéa has an incomparable service offering dedicated to the establishment of businesses which are linked to the decarbonisation of the economy and the development of sustainable solutions.
Quality of life and tourist attractions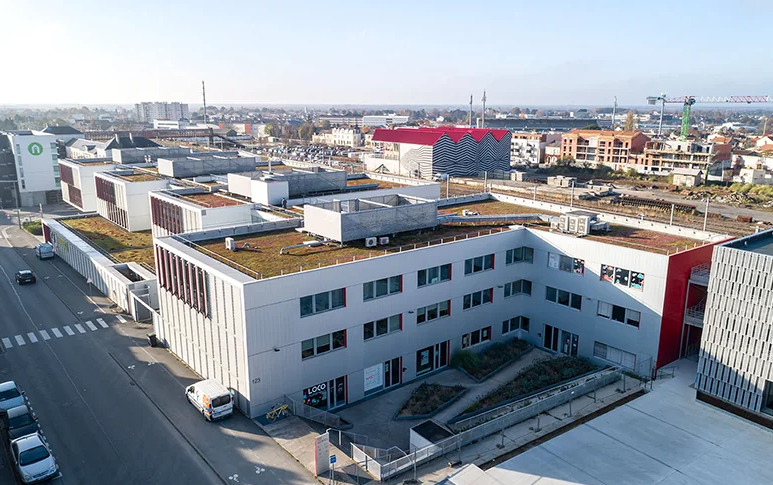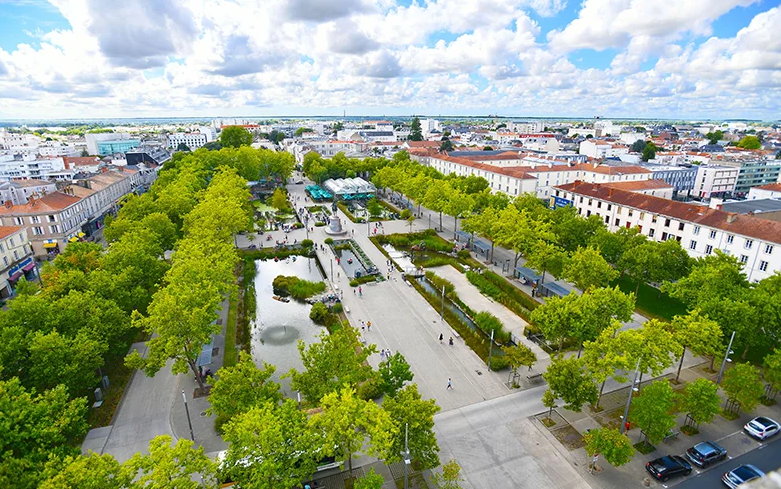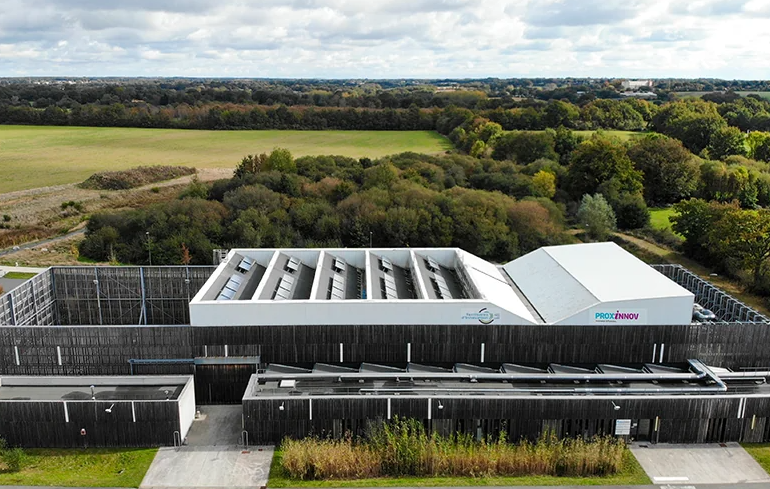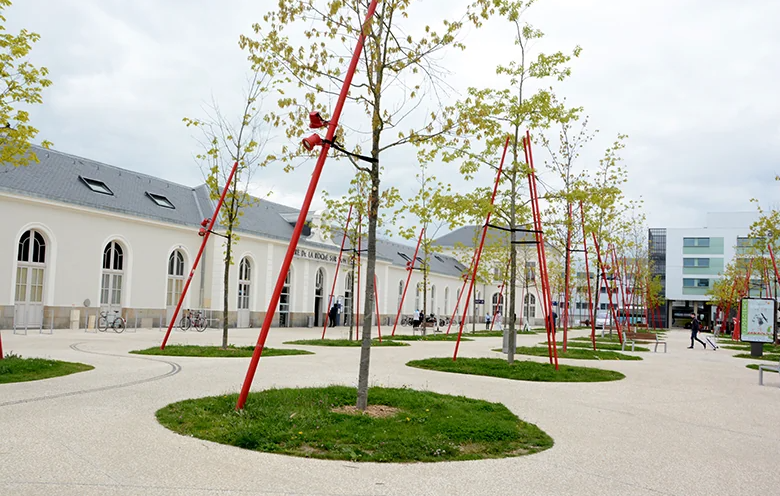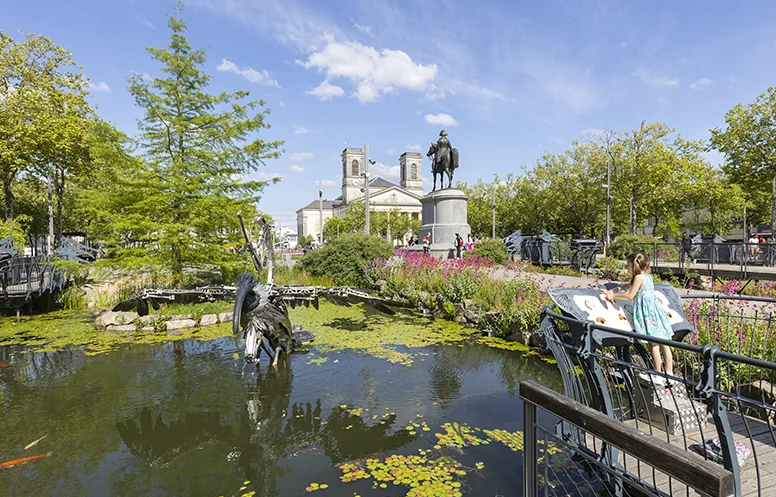 Vendée is one of the leading tourist departments on the Atlantic coast, and La Roche-sur-Yon has a recognised high quality of life and a preserved heritage. The history of the city is closely linked to Napoleon since the emperor wanted to transform the once village into a prefecture and because the architecture was inspired by his style.
Less than 30 minutes from the Atlantic beaches, La Roche-sur-Yon offers its residents more than 500 hectares of green spaces and all the infrastructures of a large metropolis: urban transport, performance halls, theatres, complexes for leisure, etc. The central 3-hectare esplanade, named Place Napoléon, is a place of convergence for the population where strange mechanical animals have chosen to take up residence there. La Roche-sur-Yon is a human-scale commune very popular with holidaymakers and will not fail to appeal to the whole family!
DO YOU THINK THAT ROCHE-SUR-YON COULD BE THE IDEAL LOCATION FOR YOUR BUSINESS?
Main sources of the article:
Oryon, the economic development agency of La Roche-sur-Yon Agglomération
Entrepreneurship in the heart of Vendée, the reception service for entrepreneurs in La Roche-sur-Yon
Photo credits: © Oryon – © A.Lamoureux – © D. Fugere