In early 2023, the construction process of Atlantic France-based company Neoline's first ship began. The 136-metre-long sailing cargo ship will be able to carry up to 5,300 tonnes of goods. It will be equipped with Chantiers de l'Atlantique's innovative SolidSail solution, enabling it to save at least 80% of fuel compared with a conventional cargo ship. We spoke to chairman and co-founder Jean Zanuttini about the origins of the project and the company's ambitions.
Building the first Neoliner was the culmination of a long process. What were the first steps of said process?
The project began in 2011. After the initial phase as an association, we set up a company in 2015: Neoline Développement. The impetus came from a group of 9 merchant navy professionals who were striving to invent the ship of the future. We wanted to be very pragmatic in our technological approach, by using tried and tested elements, but also very ambitious in environmental terms. The idea was to act as a link between engineers and shipowners in order to create ships that would be operational, but truly low-carbon as well. In 2015, we chose to set up our company in Atlantic France because we found an already complete maritime ecosystem there: from naval engineering and architecture to innovative companies in the industry (most notably Chantiers de l'Atlantique). It was also at this point that we made investments to buy external studies, and we obtained R&D support from the Atlantic France regional council with an initial €30,000 grant, followed by a €120,000 repayable advance (co-financed by Bpifrance).
How were you able to move from the project stage to the construction stage?
We first recognised that companies in Atlantic France needed a sea freight service to transport goods to the United States. In 2018, we signed an initial agreement with Renault, and then in 2020 with Beneteau and Manitou, both of which export around 30% of their production to the United States and currently have to go through the Channel or North Sea ports. These agreements will enable us to guarantee the minimal loading that is essential for the launch of the line. The financing was completed at the end of 2022, construction has just started and the ship is due to set sail in June 2025.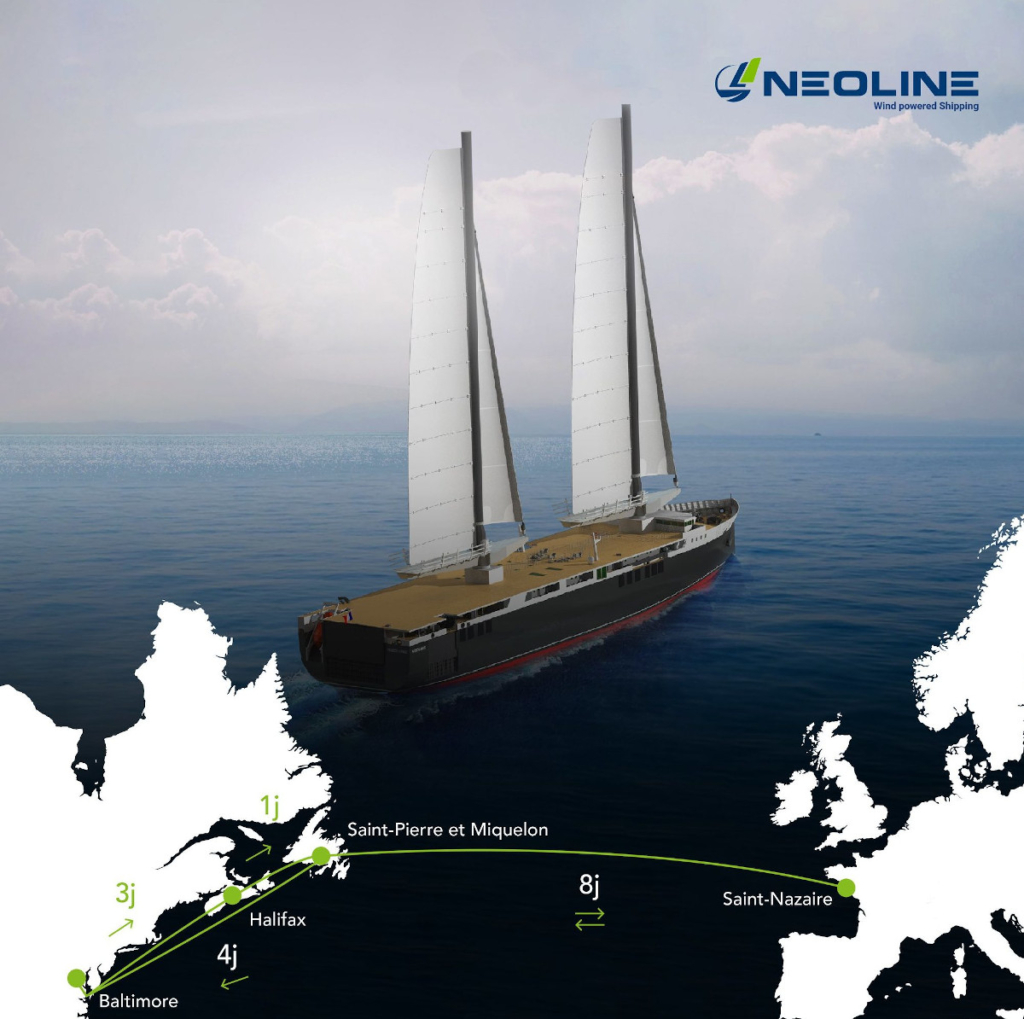 The investment amounts to around 60 million euros. How did you manage to raise this sum?
The financing plan is relatively complex and was focused on the company Neoline Armateur, which has several shareholders such as world leader CMA-CGM, Ademe Investissement, our company Neoline Développement, Corsica Ferries and Hardy SAS (a company based in Saint-Pierre and Miquelon). To begin with, we relied on the support of the main shippers to obtain bank loans, which represent 75% of the total investment. In fact, this is the first project to use Bpifrance's Strategic Project Guarantee in the maritime sector. We have also benefited from both the new law on green depreciation, which allows us to recover part of our investment in low-carbon propulsion, as well as from EDF's purchase of energy-saving certificates. The parent company, Neoline Développement, has also opened up its capital to private investment funds such as Mer Invest, to the public fund Pays de la Loire participations (funded by the Atlantic France regional council), to the company ARCAD and also to a holding company of a thousand investors brought together through the crowdfunding platform Wiseed. Finally, the continued support of the Atlantic France regional council has been decisive, with a new repayable advance of €1.3 million for the construction of the first vessel, and a high level of availability from the departments that helped us throughout the entire process.
What will be the route and frequency of the line covered by the first Neoliner?
The route will run from Saint-Nazaire (Atlantic France) to Baltimore (USA) via Saint-Pierre and Miquelon(a French archipelago near Canada) and Halifax (Canada). The ship will be of the ro-ro type, to offer great versatility to shippers, and will also be able to carry up to 12 passengers. We strongly believe that more and more people will be looking for alternatives to air travel. The journey will take 8 days to get to Saint-Pierre and Miquelon, then a further 4 days to Baltimore, meaning that it will take a total of 13 days (with a one-day stopover) to get from Atlantic France to the United States. Punctuality is a key element of our commitment to shippers and will not be an adjustment variable: we may have to turn on the engine to arrive on time if necessary, but our aim is obviously to not have to do so.
How do you plan to meet these demanding deadlines and minimise the impact of the crossings on the environment?
Firstly, by reducing the speed to 11 knots, which halves the energy requirement compared with a conventional speed of 15 knots. Secondly, the innovative SolidSail rig invented by Chantiers de l'Atlantique will enable us to maximise the use of wind power. According to our studies, we should consume 80 to 90% less fuel than a conventional cargo ship thanks to this combination. The ship will also be equipped with a weather routing system, designed in Atlantic France by D-Ice Engineering, which will enable us to determine the best route to take in order to benefit from the best winds throughout the crossing. We have also paid particular attention to the engines: they will run on desulphurised diesel, so without heavy fuels, and will be equipped with selective catalytic reduction devices to eliminate almost all nitrogen oxide emissions and fine particles.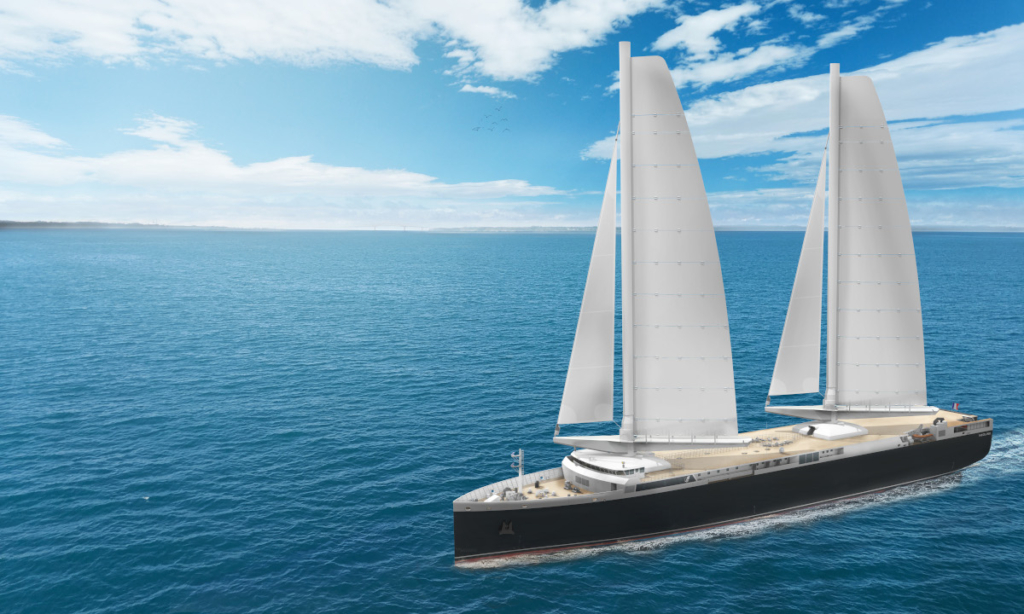 You have contract guarantees that the boat will be loaded from France. How will you go about finding shippers along the entire route?
We already have an agreement with Michelin to load goods in Halifax, as well as letters of intent with players in Saint-Pierre and Miquelon, primarily to bring back waste for processing in mainland France. We are also in discussions with other American and Canadian companies, and we will be visiting the region starting from the 23rd of October with the aim of convincing others to join forces with us. We need to raise awareness, particularly in the United States, because we're ahead of the game when it comes to transporting goods by boat in France, (especially in Atlantic France). However, this is a sector with a bright future, particularly with the greenhouse gas emissions trading scheme which is about to come into operation in Europe, as well as the introduction of the maritime FuelEU. These new regulatory constraints are certainly going to shake things up.
You recently revealed that you were working on financing a second ship. What does this project involve and what is the roadmap?
Our aim is to quickly build a sister ship that would be identical to the first, and for which the investment would be similar, at around €60 million. This would double the frequency of departures, with trips every 15 days instead of once a month. Our ambition is to bring the second ship into service a year after the first, which would mean beginning construction by September 2024. We already have excellent loading prospects and good intentions from the investors of the first ship, so now it's up to us to prove to them that the project is viable!