Business France has released its 2022 international investments report. Atlantic France broke new records, as 87 projects were set up and there was a 49% increase in jobs created or maintained.
France has been attracting more and more international investors in recent years, and the 2022 results confirm this with the 1,725 investment projects and the 58,810 jobs that were created or maintained.
In Atlantic France, we welcomed 87 international investment projects (an increase of more than 6% compared to 2021) and we were pleased to see a significant increase in job creation and maintenance – a total of 3,445 jobs (+49%). To date, nearly 65,000 people work for internationally owned companies in Atlantic France.
The new increase in international investment in our region confirms the strong international appeal of Atlantic France: a region recognised for its dynamism and that of its entrepreneurs, for its diversity and for the ability of its actors to play collectively. And since employment is at the heart of my priorities and my commitment, I am particularly proud that our region stands out with a very strong increase in the number of jobs created or maintained by international investment, which is a testament to the quality of the projects!

Christelle Morançais, President of the Atlantic France regional council
The key figures of international investment in Atlantic France in 2022
87

international investment projects
3,445

jobs created or maintained
36%

of projects are based in production activities
A region where entrepreneurship thrives
Of the 87 investment projects that are linked to international companies, 4 are takeovers, 25 correspond to new set-ups and 58 are extensions. This means that our region is not only a welcoming land for entrepreneurs but also a fertile ground for them to develop their businesses. More than 1,100 international establishments are present in Atlantic France, and they are all doing well since 2,770 jobs were created last year.
The main sectors concerned by international investments are consulting and business services, trade and distribution, and agrifood. These sectors account for 36% of projects and 55% of jobs. We can also note that 575 jobs were created in the field of electrical and computer equipment, and Atlantic France represents a third of the jobs created in this sector in France by international investors in 2022.
In terms of projects, Germany is the main investor in the region (17% of projects), followed by the United States and Italy (11% each), the UK (9%), and Switzerland (7%). But in terms of jobs created, American companies take 1st place (30%), and are clearly ahead of the UK and Holland (13%) and Germany (11%).
To convince investors that setting up in Atlantic France is a good choice, and to make it easier for them to do so, we prepare free personalised case studies. Last year, we worked on around 175 new projects. Are you thinking about creating a new business in France? Contact us for confidential advice.
International investment in Atlantic France: the evolution of project numbers and jobs since 2014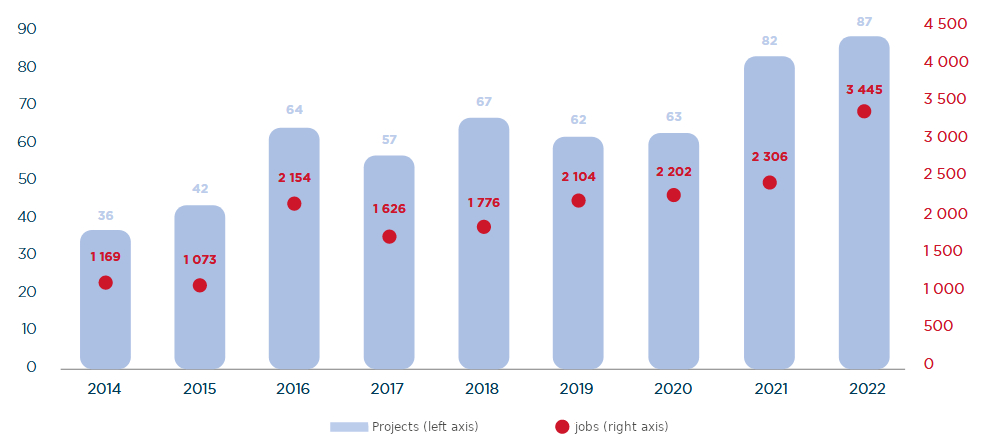 3 concrete examples of international companies developing in Atlantic France
Leadec Holding BV & Co: Leadec Services Angers is a company of the Leadec Group, which is headquartered in Germany. Leadec combines the expertise, network capacity, and performance of a global player with the personalised support of a regional partner with a local perspective. Its ambitions in France are considerable and are mainly being carried out through acquisitions: 300 to 400 jobs in 3 years. To boost its development in France, the Group has decided to set up a new centre for the treatment and recycling of industrial packaging waste on its partner site in Maine-et-Loire. This exceptional project with a CSR dimension will help create 40 new jobs in the first year. A second phase will see the recruitment of a further 50 people on a dedicated site.
Xnext SpA: Based in Milan, Xnext is an Italian scale-up that combines AI, photonics, and microelectronics to develop and produce next-generation X-ray technology. Its expertise enables it to detect foreign objects or defects in products, particularly in the agrifood, metalworking, pharmaceutical, circular economy (e.g. recycling), and security sectors. In order to be closer to its French customers, the French subsidiary of the Italian company Xnext SAS has been officially created in the Le Mans area because of its strategic location. This establishment will lead to the creation of at least 14 new jobs (salespeople, maintenance technicians, R&D engineers) by the end of 2024. Finally, the development of R&D activities will enable Xnext to maintain its presence in the region and to encourage future investments by the Italian scale-up in high-value-added activities.
Parker-Hannifin Corp.: In September 2022, the American group Parker-Hannifin, which specialises in technological equipment (in particular for aeronautics), announced its acquisition of the British group Meggitt, which is a leader in electromechanical equipment for extreme environments in the aeronautics, defence, and energy sectors. Parker Meggitt is based in France, near Angers, has more than 300 employees, and is investing in a new production and R&D site there in order to rethink and modernise industrial processes and tools; in particular they are heading towards greater digitisation and agility, to support rapidly growing activity and to influence the carbon-free revolution in aeronautics.
Do you want your business to be our next success story?
Contact us to discuss your project!