As one of the top ten world economies, France has a lot to offer to foreign businesses – from ample investment opportunities, to favorable fiscal rules, access to high-skilled workers and a great quality of life. It is not for nothing that Ernst & Young (EY) ranked France as the most attractive business destination in Europe for the past three years in a row. In this article we break down the top 5 reasons to set up shop in France in 2023, and include testimonies from several companies who have recently decided to relocate their operations.
Reason #1: Favorable investment climate
France attracted more foreign investment projects in 2021 than any other EU country. Investors have been drawn to its pro-business reform agenda – specifically, the "France 2030" investment plan, which foresees €100 billion of investment in key future-proof industries over the next seven years. As a result, 1 in 5 investment projects in Europe are currently located in France. Last year, startups raised almost €11.6 billion ($12.4 billion) in investments, up 115% year-on-year.
By establishing your company in France in 2023, you are well positioned to attract funding and partners quickly and easily. Stacey Rivers, Business Development & Operations Manager at robotics firm BladeBUG, echoes this:
"As a scale up company with a new innovative technology it can be difficult to generate the initial buy-in from innovators and early adopters – those who are willing to be involved with proof of concept and pilot programmes at an early stage of development."
Do you want to know how you could benefit from France's favorable investment conditions? Contact us!
Reason #2: Innovative global economy
France's diversified economy is home to a wide range of players, from large multinationals such as Carrefour, Peugeot and LVMH to high-tech startups like BackMarket, Mirakl and Doctolib (French Tech).
The country's major industries are aerospace, automobile, food industry, pharmaceuticals, luxury and fashion industry, electronics, logistics, and health equipment.

BladeBUG's Stacey Rivers explains the reasons the company set its sights on France:
"We were looking to identify business opportunities not just in the UK but internationally. We were aware that France had a significant number of assets onshore and a growing portfolio offshore which aligned well with our business strategy."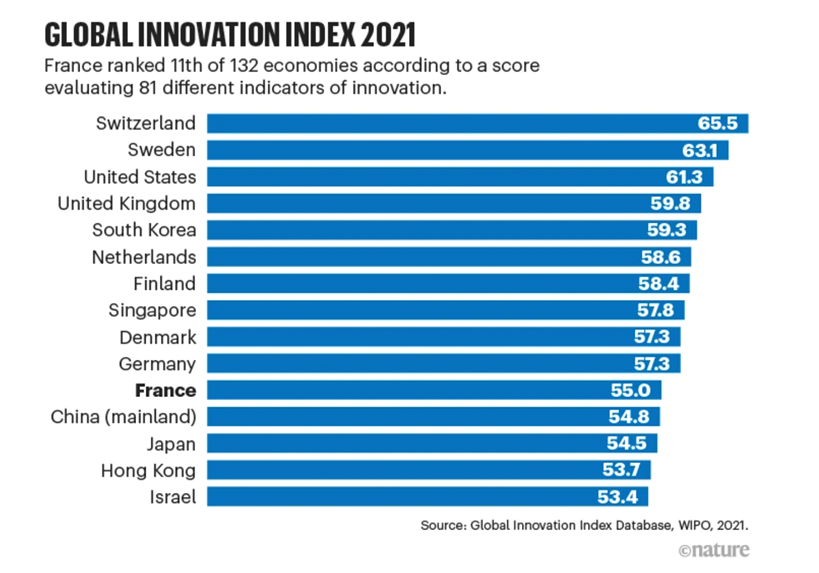 interested in leveraging France's innovative business climate for your company?
CONTACT OUR EXPERTS!
Reason #3: Highly skilled & productive workforce
France also stands out for its excellent educational institutions, high-skilled labor force, and excellent training and reskilling climate.
"We are incredibly grateful for the opportunities that we have already had with French developers, owner/operators and service providers." – Stacey Rivers, BladeBUG
In the latest edition of the Global Talent Competitiveness Index, which took into account six key criteria – including fiscal and regulatory framework, quality of education, social protection, employability and workforce training – France ranked 19th out of 133 countries surveyed.
Especially on this last point, workforce training, France ranks 4th in the world for its capacity to reskill workers and provide opportunities for lifelong learning.

This is good news for foreign companies in future-facing industries who wish to tap into the benefits of having a highly adaptable and committed workforce. Not unimportantly, France is the 2nd European country in terms of hourly productivity.

Bruno Gavarelli, the CEO of XNext, a world leader in food inspection systems, says the company greatly benefited from France's high-skilled workforce:
"We established several partnerships, for example with the University of Le Mans, an employment agency, and several business networks in Nantes and other cities."
As a cherry on top of the cake, the French government has also set up a number of attractive visa schemes in recent years to attract foreign talent in an effort to compensate for the digital skills shortage faced by many European countries.
Reason #4: Affordable labor force
The French labor force isn't just highly skilled – it's also relatively affordable.
The average hourly labor cost in 2021 was €37 in France – significantly higher than the EU-average of €29, but comparable to the $38.91 earned by private industry workers in 2022 in the U.S. (according to the Department of Labor).
Reason #5: Favorable legal and fiscal environment
For a long time, France has had a reputation for unnecessary bureaucracy and red tape. However, those days are long gone.

In recent years, administrative formalities for the establishment of foreign companies have been greatly reduced.
What's more, the French government has put in place a wide range of tax incentives for foreign companies – particularly those focused on innovation. For example, there is the competitiveness tax credit, the abolition of the solidarity tax, and the creation of the research tax credit.
Corporate income tax rates have been reduced from 33% to 25% in 2022, and there are now several temporary tax exemptions for innovative companies.
Foreign companies also have access to the same grants and subsidies as French companies, including support for R&D, vocational training, job creation, and other areas of business development.
Bonus reason: benefit from free advice
Last but not least, free support programs such as the Impact Program – which is tailored to startups and scale-ups – have sprouted up all over the country to help ease the transition for foreign companies, enabling them to hit the ground running.
"The Impact Program opened doors for us to understand the French ecosystem and to identify business opportunities. It also provided us with continual support and key contacts." – Stacey Rivers, BladeBUG
XNext's Bruno Gavarelli had a similarly positive experience:
"They went above and beyond what we expected in terms of support, giving strategic suggestions and challenging our thinking. As a cherry on top of the cake, they even helped us sign a big customer."