In line with the France Relance plan, which aimed to massively protect the French against the economic and health crises of 2020, the French State is continuing to invest in innovation and reindustrialisation. Unveiled a few months ago by the President of the Republic, France 2030 is composed of numerous calls for projects or expressions of interest in order to prepare the France of tomorrow. As part of this plan, Solutions&co's economic advisors know how to perfectly support companies established in Atlantic France and help them to find appropriate solutions and fundings to bring out the most innovative projects.
France 2030: a plan in favour of investment, innovation and reindustrialisation
France 2030 is an investment plan of €30 billion to be deployed over 5 years. It must allow:
French industrial backwardness in certain historical sectors to catch up with modern methods
Great investment in innovation
Ecological transition support
The creation of new industrial and technological sectors
If France 2030 is in line with France Relance, the major difference compared to the previous plan is the objectives set. The aim here is to focus more on emerging players and to capitalise on the exceptional dynamics of the French ecosystem in terms of innovation and technological excellence, relying in particular on startups and industrial SMEs.
Unprecedented support for emerging and innovative players
France 2030 devotes nearly half of the budget (€15 billion) to emerging players, including €3 billion to invest in the capital of technological startups and the unicorns of tomorrow.
Factory of the future, cybersecurity, energy transition: France 2030 will finance innovative systems that must provide a response to the challenges of tomorrow. Organised into 10 topics (agriculture and food, health of the future, digital technology, etc.), the calls for projects and expressions of interest set up in this investment program are operated and supported by public bodies such as Bpifrance, ADEME or the National Research Agency.
10 goals to address the great challenges of our world
France 2030 aims to allow France to find ways to recover its environmental, industrial, technological, health and cultural independence, and to take a step ahead in these strategic sectors.
France 2030 sets 10 objectives which revolve around 3 challenges: to produce better, to live better and to better understand our world. This program is accompanied by 5 conditions, without which these ambitions would not be achievable.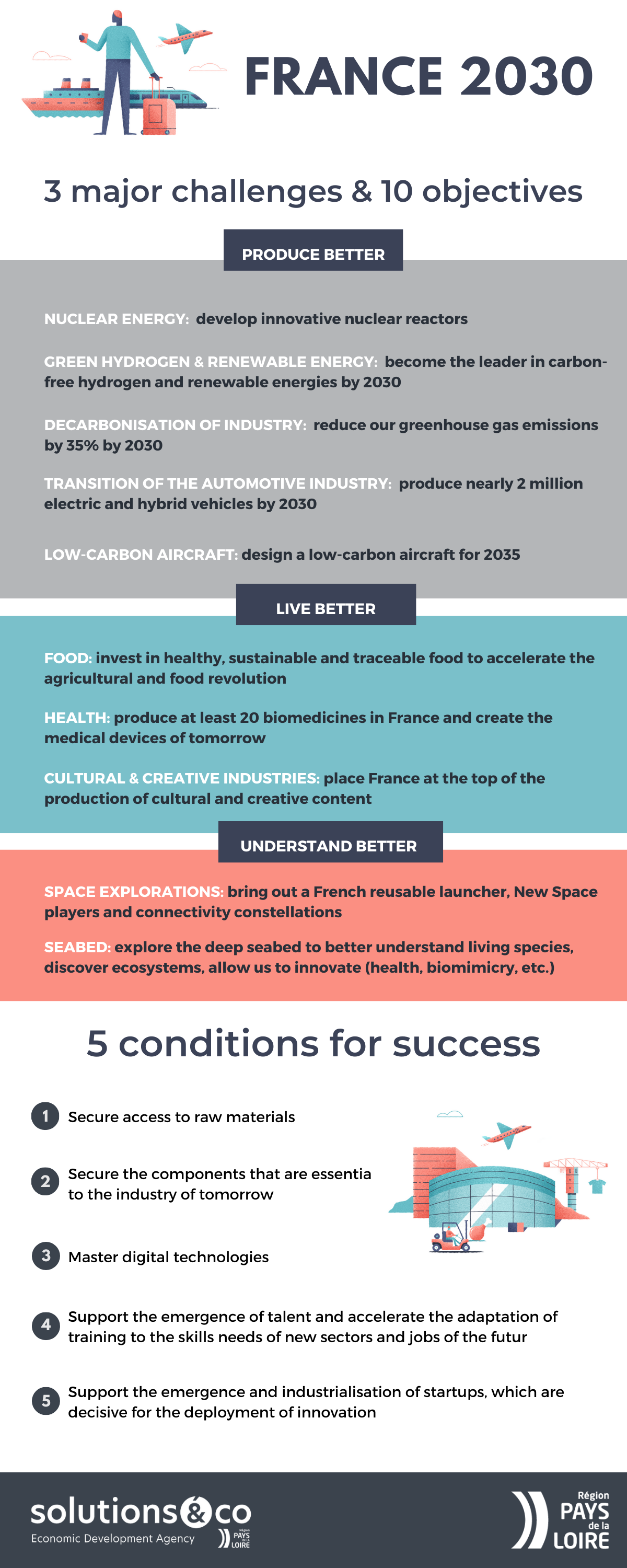 Source: economie.gouv.fr
Atlantic France: an ideal destination to develop your projects!
Whether you are the head of a business, an entrepreneur or a project leader, you will find all the conditions favourable to the success of your projects in Atlantic France. The territory is dynamic and the economy is flourishing. Strongly growing markets, rapidly developing innovative solutions, infrastructures and networks of private, institutional or academic players serving attractiveness… The Atlantic France ecosystem allows programs such as France 2030 to achieve great success.
The Atlantic France economic development agency, Solution&co, 'is an essential link for entrepreneurs to rely on, as they can benefit from personalised support with responding to these calls for proposals. In collaboration with State and Regional services, our economic advisors will help and guide you to take better advantage of these calls by monitoring, benchmarking, sourcing, etc.
France Relance: the success of Atlantic France in national calls for projects
---
If proof was needed to demonstrate the state of mind and the commitment of the economic players in Atlantic France, some key figures on the mobilisation of Atlantic France within the framework of the France Relance calls for proposals could be provided:
Support for industrial investments (all calls combined): Atlantic France presented 247 projects (i.e. 9.6% of the nationwide total), mobilising €165 million in grants (6.6% of the total support amount)
Industry of the future call for projects: 841 initiatives supported in Atlantic France (10.7% of the national volume), for a total sum of €109.3 million (i.e. 13% of the national total)
Source: Atlantic France Regional plan for economic development, innovation and internationalisation – 2022-2028