1
Description
ID: 100305
The Sainte Catherine business park covers 30 ha, of which 4.9 ha are available. It is dedicated to industrial, service and craft production companies. 30 companies are already established.
Anjou Actiparc Sainte Catherine offers you 30 hectares to welcome your company. Organized around a central road, in the extension of the Baugé business park, it benefits from an exceptional showcase on the RD 766.
Anjou Actiparc Sainte Catherine has all the facilities you need for your development (high-speed network, gas, etc.).
Type of property:Land
Périmètre : ZRR
2
In pictures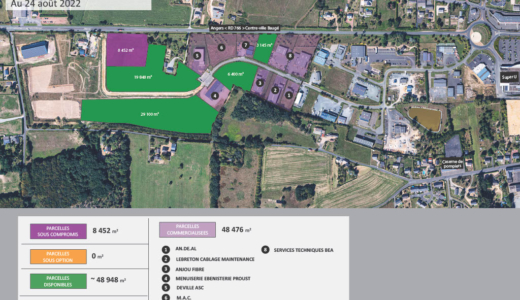 3
Technical specifications
Building
Broadband/digital facilities: fibre optic
Sanitation: collective
Land subdivision possible
Gas supply
Access
A11 and A87 freeways 15 min away
A 85 freeway 10 min away
Angers TER/TGV train station 40 km away
Angers-Marcé airport 10 min away
Nantes international airport