The flagship event SIVAL is currently taking place in Angers, Atlantic France; a perfect showcase for the plant production sector and innovative regional companies in this field.
The exhibition centre in Angers is hosting the 2023 edition of SIVAL on the 17th, 18th, and 19th of January. The professional trade fair brings together more than 700 exhibitors and 26,000 visitors, of which around 1,000 are international. 41 countries were represented in 2022.
The event also hosts over 150 experts and speakers, as well as a delegation of foreign buyers of 34 different nationalities. Companies can benefit from the VIBE international business convention, which hosted more than 100 participants in a dedicated space last year, and allowed for 208 business meetings to be held. For the first time this year, the VIBE will be accessible via the SIVAL Online platform where relevant market information can be found.
The sectors of last year's participants: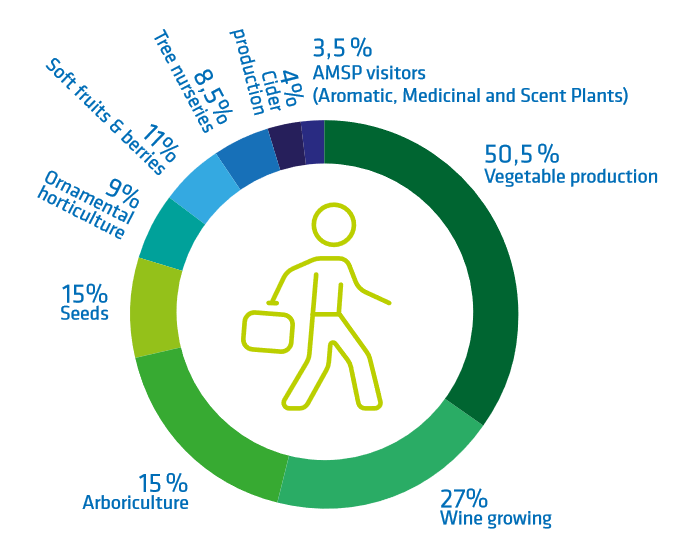 A showcase for innovative plant production companies
SIVAL serves as a great opportunity to discover innovative projects through a dedicated space and high quality contests (SIVAL Innovation and AGreen Startup). Many companies in Atlantic France are innovating in the field of crop production, and recent examples have shown businesses are flourishing.
For instance, the organic aromatic herbs specialist Bioplants France launched a new production unit a few months ago in Ponts-de-Cé, near Angers. Thanks to 15,000 sqm of greenhouses and 4,000 sqm devoted to logistics, the subsidiary of the Swiss company Max Schwarz will double its annual production (from three to six million pots).
Meanwhile, the Dutch seed producer Nunhems, a subsidiary of the BASF group, has extended its premises by 1,285 sqm in Longué-Jumelles, which is north of Saumur. The project has received €586,000 of aid from the Atlantic France regional council.