1
Description
ID: 2000432
These offices are located in Nantes, Loire Atlantique, in the Pays de la Loire region.
Located near the city center, 110 m² of divisible office space. Meeting spaces, a convivial area conducive to inter-company exchanges.
Attractive rents and great flexibility with short notice periods, the possibility of changing premises and/or site according to your company's development projects.
Type of property:Office space
2
In pictures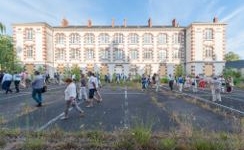 3
Technical specifications
Building
Built surface area (sqm): 110 sqm
State of repair: new