The Gruau Group recently designed a mobile dentistry unit equipped with a radiology information system and built in Laval. It is the first time this type of mobile office is based on a 3.5-ton truck. The conception of specific vehicles has become a strategic activity for Gruau.
Created in Mayenne (Atlantic France) in 1889, Gruau is the #1 European specialist for light commercial vehicles (LCV) conversions. The company employs 1,600 people in 21 locations around the world with an annual turnover of €276 million. Each year, Gruau designs and adapts more than 54,000 vehicles to suit the needs of all kinds of clients.
A 4 year pilot experience
The regional union of dentists of Auvergne-Rhône-Alpes ordered an innovative mobile clinic which was built in Gruau's Laval factory. Based on a 3.5-ton truck, it obtained an authorisation from the French nuclear safety authority to take on board a complete radiology information system.
More than 60 innovations are integrated in the mobile dental office designed by Gruau and the truck will be tested over four years. The project obtained state subsidies, so that this pilot experience could then be deployed on a national scale to fight against "medical desertification".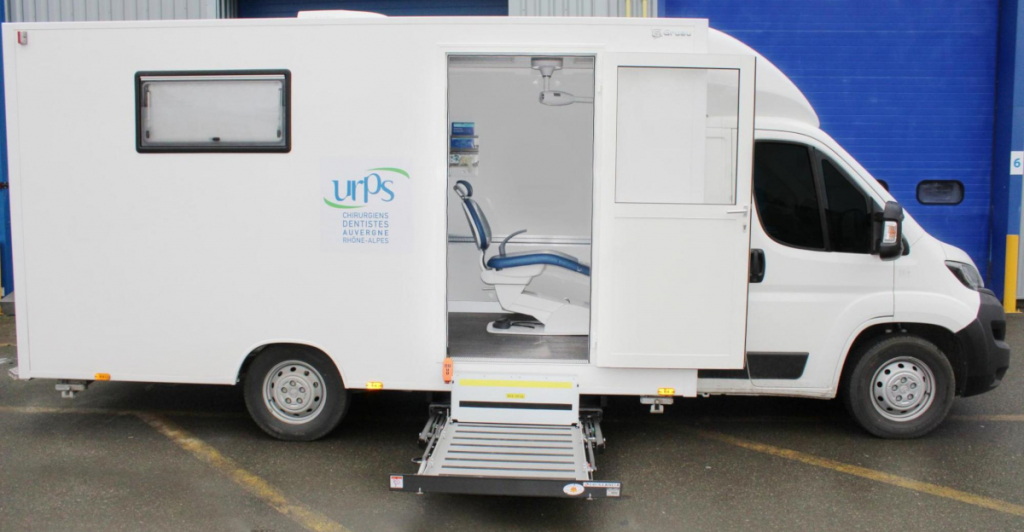 The rise of specific vehicles
Before this dental truck, the Gruau group had already designed in Laval several gynecological consultation vehicles and a dozen mobile optical offices, but also mobile bank agencies.
The conception of specific vehicles, created from a blank page to meet a user's need, has become the second most important activity of the company in Laval. The site's annual turnover augmented to €25 million last year and has doubled over the past four years.