Cities are being transformed with the deployment of smart street furniture. Below are 5 examples of innovative solutions developed in Atlantic France in order to improve the daily lives of inhabitants, help preserve their health or even strengthen social ties.
BeanCloud: a connected installation to represent air quality
Set up in Nantes in 2019, the BeanCloud is a 4 meter high installation created by the agency Design9. It is formed in the shape of a cloud which changes color depending on the level of air pollution. Equipped with seven micro-sensors made by the Nantes-based company Atmotrack, it also uses the official data provided by Air Pays de la Loire. Thanks to solar panels, it is self-sufficient in energy. The project is led by Nantes urban development agency, Samoa, and now the objective is to develop a B2B business model.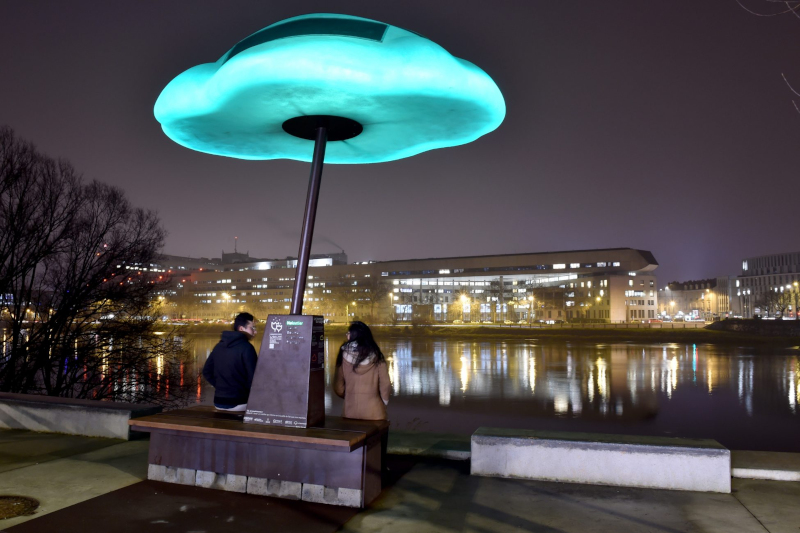 R4Bike: an autonomous inflation station for soft mobility
Under-inflation is the #1 cause of bicycle tire punctures and premature wear. Two companies from Nantes (TMC Innovation and Libre Énergie) have therefore partnered up to create NRlux. The startup designed R4Bike, a self-service bicycle inflation station which is connected, self-sufficient in energy and available 24 hours a day. A prototype was installed in Nantes in 2019. A success: on average, 86 tires per day were inflated in 2020. Six other stations are being deployed through the city.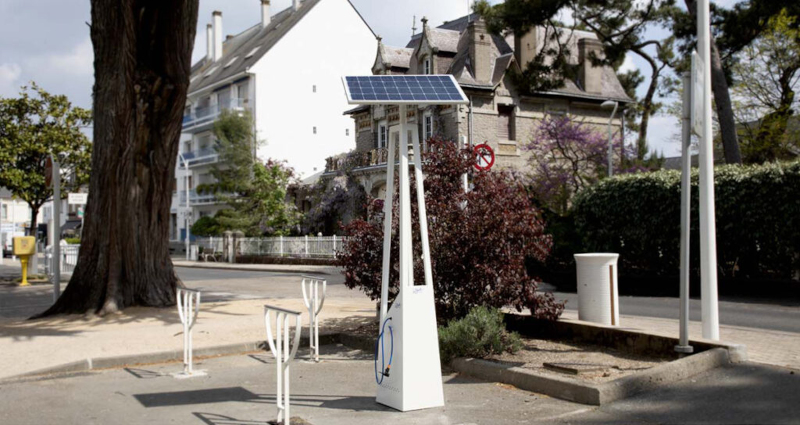 Smile in the light: interactive games for transportation stops
Nobody likes waiting for the bus or the metro, and talking to strangers can feel awkward, especially at night. The designer Ophélie Jaret has invented a brilliant solution: Smile in the light gives the option of playing arcade games such as Tetris, Snake and Pong which are projected onto the ground. Thanks to webcams which detect their silhouettes, people can play the game by moving themselves and also by interacting with someone on the opposite platform. The startup from Nantes also allows companies to rent custom installations either for one-off events and special occasions, or for the whole year with a monthly fee.
Coasis: an innovative street installation to face heat waves
Because of global warming, intense heat waves are becoming more common. Cities must therefore develop green spaces to moderate the heat. But trees take a long time to grow and cannot be planted everywhere, especially when soil is polluted. To tackle this issue, the company Spie batignolles vallia has invented Coasis with local partners (Valbois, Vallois, La Mutine, Vertuo and Branellec-Bataille). This street installation is topped with a 6 sqm sail in the shape of a leaf which provides shade and collects rainwater for a built-in planter. It also has a solar panel and plugs to charge a phone or a laptop and can be used as a coworking space. A Coasis structure was installed in Nantes urban area a few weeks ago, and two other similar prototypes are being tested until October 2023.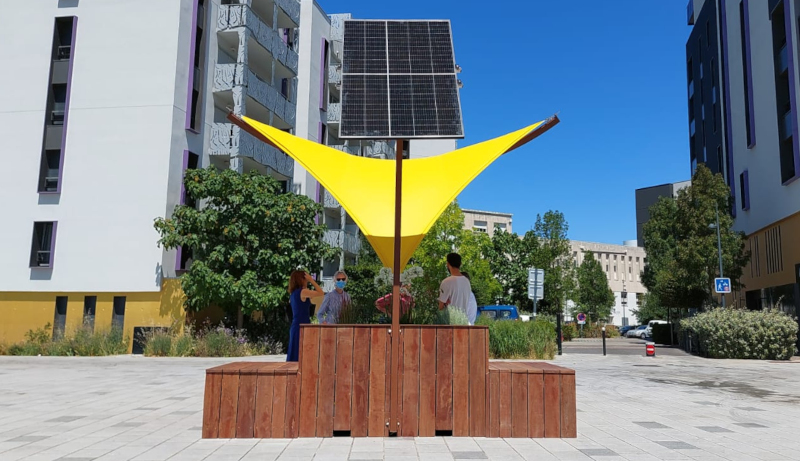 La Ruche à vélos: secure bicycle parking spots
The startup La Ruche à vélos ("The Bike Beehive") was created in 2020 by three former students of the engineering school Icam Nantes. The company develops innovative and 100% secure bike racks: users can reserve a spot and lock/unlock their bike through a mobile app. The first model was a collective bicycle shelter with an automated rack system, and a prototype was installed in Angers in October 2021. The company recently presented its second product: a set of 6 individual secure bike parking places. This solution is easier to implement, as it does not require heavy road works, and Nantes Métropole has already ordered 5 sets. After having raised €1.5 million in June 2021, La Ruche à vélos is planning to raise €3.5 million by autumn and to double its workforce.