The start-up Lhyfe has been announcing major news throughout 2021. The innovative company from Atlantic France started to produce green hydrogen in Vendée, was chosen for several projects abroad and formed strategic partnerships. Here is an overview of this exceptional year.
Lhyfe was created in Nantes in 2017. The start-up, a pure player in renewable hydrogen, came under the spotlight in 2020 by announcing ambitious projects and taking the lead in the green hydrogen revolution which is happening in Atlantic France. The production and the use of this clean energy emits only water and oxygen and no greenhouse gases.
The first European production site for ecological hydrogen
In August 2021, Lhyfe opened a production site for green hydrogen in Bouin, Vendée. It is the first in Europe, and the first in the world to produce hydrogen from wind power on an industrial scale. Directly connected to a wind farm located a few hundred meters away, the facility can produce from 300 to 1,000 kg of ecological hydrogen per day.
This sustainable fuel is used locally for different applications: buses, fire engines and utility vehicles in the cities of La Roche-sur-Yon and Le Mans, forklift trucks in a logistics warehouse near Nantes, and heavy construction vehicles in the port of La Turballe.
On the day of its inauguration, Lhyfe announced that they had raised €50 million in a Series A financing round and welcomed SWEN Capital Partners and Banque des Territoires onboard alongside its original investors.
A world pioneer for offshore renewable hydrogen
A couple of months before, Lhyfe announced a partnership with Centrale Nantes to install a demonstrator on the SEM-REV offshore test site off the coast of Le Croisic, Atlantic France. Powered by a floating wind turbine and operational in 2022, it will be the world's first offshore hydrogen production facility. Lhyfe is planning to generate 400 kg of hydrogen per day and to launch large-scale industrial deployment in 2024.
In September, the company also formed a partnership with Aquaterra Energy and Borr Drilling to develop an innovative concept for offshore green hydrogen production in the North Sea, where the force of the winds allows large quantities of hydrogen to be produced. And in December 2021, Lhyfe announced another partnership with DORIS Engineering to launch the first floating wind turbine for integration with a hydrogen production system.
Transforming electricity into hydrogen offshore presents several advantages, and in particular for marine ecosystems because seawater is used for the electrolysis: the process purifies it and increases its oxygen proportion.
Several industrial contracts in Europe
Lhyfe has been selected for more than 60 hydrogen projects across Europe, and in particular in Denmark and Germany. For example, the start-up from Nantes will install a hydrogen production site at the Danish industrial park GreenLab. Operational by the end of 2022, it will produce approximately 8 tons of renewable hydrogen a day.
The company is also a member of the GreenHyScale project consortium. The objective is to develop a 100MW electrolysis plant which will be operational in 2024 and will generate 30 tons of renewable hydrogen a day.
A few weeks ago, Lhyfe also signed an agreement with the German national railway operator, Deutsche Bahn, for its H2goesRail project. The company will build and operate an electrolyser from 2024, and the hydrogen produced will fuel a hydrogen train.
A commercial arrangement with the global leader Plug Power
In October 2021, Lhyfe settled a major agreement with the US company Plug Power which is the largest buyer of liquid hydrogen in the world. According to the terms of this partnership, the objective is to generate a total hydrogen capacity of 300MW by 2025 and to start the development of a 1GW production site.
We're thrilled to expand our work with Lhyfe, bringing the green hydrogen revolution throughout Europe. In North America, we've already built a robust 'hydrogen highway,' which includes 165 hydrogen fueling stations and stationary power for businesses and institutions, a success we plan to replicate in Europe.

Andy Marsh, CEO for Plug Power
Exciting collective projects in Atlantic France
A few days ago, the SYDEV and its semi-public company, Vendée Energie, opened a multi-energy station in La Roche-sur-Yon, Vendée, which distributes three locally produced green energies: Lhyfe's green hydrogen, electricity from photovoltaic plants and bioNGV. "Ecological mobility is finally a reality!" said Matthieu Guesné, CEOr of Lhyfe.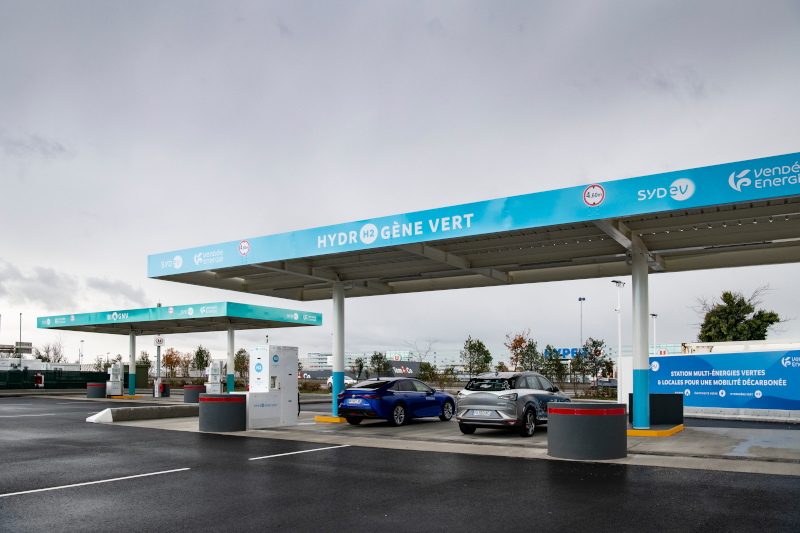 Many other facilities dedicated to hydrogen will be created in the next few years. Lhyfe is leading the VHyGO project (Hydrogen Valley in the Great West of France) which includes private and public partners, one being the Atlantic France regional council.
The first phase of this project will cost around €38 million and the French Agency for Ecological Transition Ademe granted funding of €14 million. The objective is to avoid the emission of 50,000 tons of CO2 by 2024 with the creation of 10 production sites, 20 distribution stations and 500 hydrogen vehicles.
Watch our interview with Matthieu Guesné, CEO of Lhyfe