1
Description
ID: 2000221
These offices are located in NANTES, Loire Atlantique, in the Pays de la Loire region.
Located in the HALUCHERE – OUCHE BURON district, this office building has a surface area of approx. 1,750 m², divided into 700 m², ground floor + 3 floors.
The premises will be delivered fully equipped, without partitioning or cabling, and with fresh air. They benefit from ERP 5 (category W) classification, with 15 private parking spaces.
These offices will be available for rent in Q4 2023.
Type of property:Office space
2
In pictures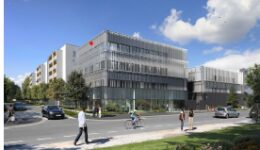 3
Technical specifications
Building
Built surface area (sqm): 1750 sqm
State of repair: new
Number of car parking spaces: 15
Access
chronobus line C1
immediate proximity to the northern ring road
tramway nearby