1
Description
ID: 100437
The ZA de l'Eguillon offers 7 plots of land to be marketed from 3500 to 21500 m².
It benefits from a geographical position that favors its economic development.
Its economic fabric is dense with large industrial groups and numerous small and medium-sized companies operating in a variety of fields: food processing, salting, automobiles, electronics.
Located in the heart of a country of art and history, the territory also offers a pleasant living environment since it is surrounded by green landscapes, rivers and a rich built heritage. Numerous services and infrastructures for schools, health care, sports and leisure facilities.
2
In pictures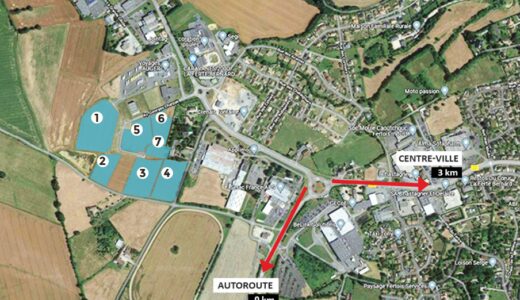 3
Technical specifications
Building
Broadband/digital facilities: fibre optic
Access
40 minutes north-east of Le Mans
1h45 from Paris (exit 5 of the A11 Paris/Nantes)
45 mn from Chartres
2 hours from Rennes
2h15 from Nantes