1
Description
ID: 2000305
This type of property is located in Luçon, 44 km from La Roche sur Yon in the department of Vendée in the region Pays de la Loire.
Located in a dynamic business area, this type of property with an area of 620 m² is composed of :
Workshop 550 sqm
Office space 70
This property is located in AFR and ZRR zone.
The building is available for rent.
2
In pictures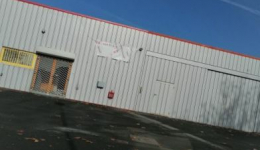 3
Technical specifications
Building
Built surface area (sqm): 620 sqm
State of repair: good
Access
Located at :
A83 highway (87 km) and A87 highway (29 km)
La Roche sur Yon train station (47 km)
Nantes train station (101 km)
Nantes airport (104 km)
Aerodrome of La Roche sur Yon (47 km)